Profile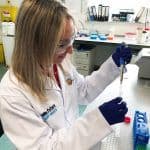 Aoife Campbell
My CV
Education:

Undergraduate degree in DNA and Forensic science, Masters in Neuropharmacology and completing my PhD

Qualifications:

Masters, special effects make up artist and personal trainer

Work History:

Department of Anatomy, Trinity College Dublin. I also worked in restaurants and nightclubs through college

Current Job:

PhD student
About Me

I'm a neuroscientist investigating new treatments for brain diseases.

Read more

I'm a neuroscientist (I study the brain) in the final year of my PhD. I study a really rare brain disease called Angelman Syndrome, which affects about 300 children in Ireland. I'm trying to understand the disease more to help develop drugs that may improve the lives of these children. Many of them have trouble walking and talking. They also have seizures, which means that their brain takes a little break and they don't have control over what their body does, which can be scary.  I work in FutureNeuro, the SFI Research Centre for Chronic and Rare Neurological Diseases, hosted at RCSI. We are a group of lots of different types of scientists from different universities working together to study brain diseases.

Before becoming a scientist, I was a special effects makeup artist and trained as a fitness instructor, because  I love to exercise and I wanted to learn more to help myself. I usually cannot go more than one day without going to the gym or boxing. I have been boxing for over 6 months now and I absolutely love it. It's definitely the best thing I've found to deal with the stress of being in my final year….and the stress of being a man united fan! I have a gorgeous husky dog called Misha who lives in Co. Clare with my parents so I try to go to Clare at least once a month to visit her. If I'm not in college or in the gym I'm most likely reading or sleeping. I love reading books about sleep and neuroscience.

Read more

I'm a brain scientist studying a childhood brain disease known as Angelman syndrome which affects roughly 300 children in Ireland. It starts at a really young age (usually before the age of 3) and a lot of the children have trouble walking and unfortunately most can't speak more than a few words so I'm very eager to try help make a difference and understand the disease more. People with Angelman also have epilepsy, which can affect people of all age groups.

Epilepsy is a disease that causes different types of seizures. Your brain has special types of cells called neurons which interact and talk to other neurons. Everything we do, from walking to speaking is controlled by our neurons. A seizure occurs when these neurons and connections get overly excited – like a wave of electricity and they stop working for a short period of time. Almost half of the children with Angelman  don't respond to drugs to stop seizures, so i'm interested in understanding Angelman syndrome more so that I can find new ways to treat it. Luckily, I work in a research centre called FutureNeuro, where we have lots of different types of scientists working together to understand brain diseases. One in every four people in Ireland is affected by a brain disease and there are 12,000 children living with epilepsy. About one third of these children don't respond to drugs which means some of them can't go to a regular school or do other every day activities without help.

Read more

My day starts at 5.30AM and I usually go boxing first thing in the morning or sometimes I start an experiment before the rest of the people in the lab get in. The members of my lab group are very close so we usually have coffee/breakfast around 9am most mornings and complain that it's not Friday already. I make a weekly to-do list so I like to tick as much of it off early in the week so that I can concentrate on writing my thesis towards the end of the week but as I'm in my final year my days are getting so busy that writing sometimes gets pushed to Saturdays L. Most scientists who work on developing drugs work with animals. We use animals so we can see if a drug is safe before we give it to humans.  All drugs that have been developed had to be tested on animals before they could be given to humans.

The scientists in my research centre are working on new technologies that mean we can grow brain cells from a piece of someones skin. This could mean that we might not need to use animals in the future. Most scientists who work with animals do special training with vets to make sure that we are taking good care of them. I work with mice that have been specially designed to help us study Angelman syndrome, the disease I am focused on. These mice require a lot of attention and daily checks to make sure they're ok, so this is usually the first thing I do from my to-do list. I spend the rest of my day doing different experiments – from DNA or RNA extractions from brain samples to protein analysis to microscope work. A lot of my work is based on my Angelman syndrome mice (I call them my angels!) so this can involve looking at different behaviours like how they walk and move before and after they have been given the drugs we're testing. I usually leave college around 6 and get the bus home so by the time I'm home and settled its usually time for bed! I adore sleep so I'm usually in bed by 9 LOL.

What I'd do with the prize money

I would do an outreach event during brain awareness week with the people that are most affected by the diseases I work on.
My Interview

How would you describe yourself in 3 words?

Determined, motivated and energetic

What did you want to be after you left school?

Forensic pathologist

Were you ever in trouble at school?

Nope!

Who is your favourite singer or band?

Eminem

What's your favourite food?

Donuts

What is the most fun thing you've done?

Road trip through California

If you had 3 wishes for yourself what would they be? - be honest!

More hours in the day, free donuts for life and more sleep!!!

Tell us a joke.

What is a sleeping brain's favorite musical group? REM
My profile link:
https://drugn19.imascientist.ie/profile/aoifecampbell/
---
---