Profile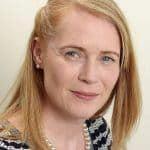 Frances Shiely
Curriculum Vitae
Education:

Mercy Heights Secondary School, Skibbereen, University of Limerick, University College Cork and University of Edinburgh

Qualifications:

BA Chemistry and Physical Education, PhD (Epidemiology), MA Teaching and Learning in Higher Education, Postgraduate Certificate in Clinical Trials

Work History:

I taught Science, PE, Chemistry, Physics, Maths and Biology in Limerick before finishing my Phd and becoming a lecturer

Current Job:

Senior Lecturer in UCC

Employer:
Favourite thing to do in science: My favourite thing is teaching people

About Me: I'm really interested in clinical trials and how we conduct trials so that patients and the public can see our methods clearly and not be afraid to take part in a trial

Read more

I live in Bandon County Cork with my partner and three children, two girls aged 14 and 13 and one boy aged 8.  The girls think that he is my favourite! But you don't believe that, do you?? I work full-time in University College Cork in the HRB Clinical Research Facility and the School of Public Health.  I try also to give back to my community. Every time I take my children to sport, the people there are all volunteers. So this year I began a School Band (Banna Cheoil) in the primary school that my son Aidan attends. It's great fun. We have 10 student members and they are all excellent. Did you ever think of volunteering? My second daughter, Eda, plays the harp and she is planning this Saturday to begin going to the Bandon Community Hospital to play for the people there. They are mostly old people and I think it would be  a nice thing for her to do.  I am a crazy traditional musician. I play the Piano Accordion. No matter how busy I am, I always find time for this. I love Irish music and I love playing it. Last year we went to Germany for Saint Patrick's Day and we played there. They loved it. I love sport, and I would watch most team sports. I'm enjoying the rugby world cup at the moment. My favourite is basketball though. I played it until after I had Aidan.

My Work: I teach a lot of Epidemiology. This is a Science that goes along with Public Health and it tells us about health and disease in population. So for example, promoting physical activity, tackling obesity, making sure children are vaccinated - these are all areas of Public Health. We call this population health because we talk about these activities for many many people. Epidemiology is also used in patient focused health. That is health at the individual level. So when I teach epidemiology for patient focused health, it is usually clinical trials. What do you know about clinical trials? Most people think about new drugs? A simple clinical trial is a study of two groups of patients, who are randomised (toss of a coin so it is fair) to receive the treatment (new drug) or the standard treatment (old drug). It is a fair comparison because the patients had an equal chance of receiving the new drug or the old drug.

Read more

https://ucc.cloud.panopto.eu/Panopto/Pages/Viewer.aspx?id=f815883e-7a7b-43a1-974b-aae600da5404

I hope the link works. If not, let me know!

My Typical Day: When I get into the office I boil the kettle for a cup of tea! Then I check my diary to see what meetings I have for the day and what classes I'll be teaching. I usually set out a list of tasks for the day around these other activities, typically, prepare class for the Fundamentals of Clinical Trials, fill in ethics application for SWAT study, meet Niamh (PhD) student at 12. Teaching from 1-3pm. Etc. I am usually fairly busy all day when I get to the office. If I have time, I like to have a walk at lunch time. When I get home, I check my children's homework, take them to activities, and listen to music. I don't watch a lot of TV. I fall into bed exhausted!

Read more

What I'd do with the money: I would half the money to do a clinical trial project with my local school. The HRB TMRN do a competition where they encourage primary school children to conduct their own clinical trial. Last year, the Gaelscoil in Bandon took part. they didn't win but they enjoyed it. I would use €500 to assist the students in their project and compile a video for presentation so they can make their work available to the public.
My Interview

How would you describe yourself in 3 words?

easy going, hard working, enjoy a laugh

Who is your favourite singer or band?

Almost Irish and Chris McMullen

What's your favourite food?

Curry

What is the most fun thing you've done?

Played music in Germany

What did you want to be after you left school?

A teacher

Were you ever in trouble at school?

No!

What was your favourite subject at school?

Science

What's the best thing you've done as a scientist?

Conducted my own clinical trials

What or who inspired you to become a scientist?

My Science teacher

If you weren't a scientist, what would you be?

A doctor

If you had 3 wishes for yourself what would they be? - be honest!

Health, my children will be happy, my Dad would be alive to see me so happy now

Tell us a joke.

i'm useless at jokes. My daughter says I never get them!
My profile link:
https://drugn19.imascientist.ie/profile/francesshiely/
---
---